It wasn't that long ago when teachers were considered heroes for switching from in-class to online learning in a weekend.
For my hometown of Jacksonville that was March 23rd. That day the entire state had just a few hundred cases, yesterday it was over ten thousand.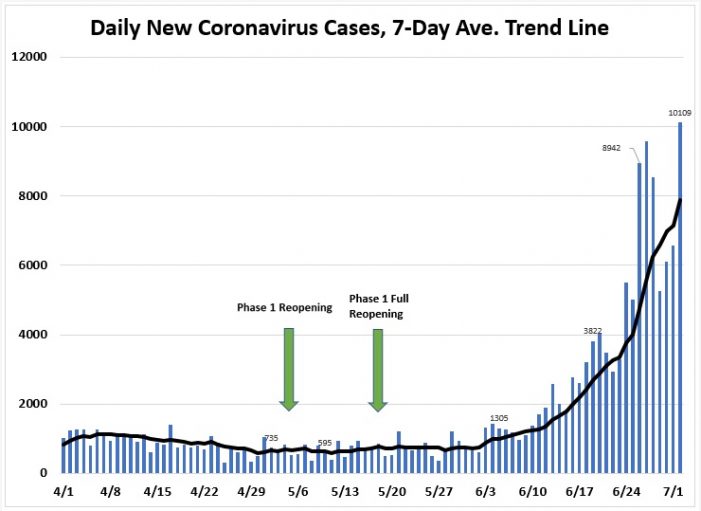 Just so we are clear when the state was seeing a few hundred cases we shut things down, however now that we are regularly breaking records the state seems bound and determined to open things up no matter what.
We have to save the economy after all they say which means schools must open no matter what and the stress that this is creating for many teachers is unbearable and I want to remind you that this was a profession already experiencing huge shortages.
From Ed Week,
An EdWeek Research Center survey of teachers, principals, and district leaders administered in June found that 62 percent of respondents are "somewhat" or "very" concerned about the health implications of resuming in-person instruction in the fall. That's down from 67 percent when the survey was administered at the end of May.
In May, nearly a quarter of respondents said they would leave their job if schools reopened without social distancing measures. Eleven percent said they would quit if schools reopened before widespread coronavirus testing is available. And 7 percent said they would leave their job if schools reopen before a coronavirus vaccine is available.
Richard Franklin, the president of the Birmingham, Ala., chapter of the American Federation of Teachers, said he thinks it will be irresponsible to open school back up before there's a vaccine. Local school districts, he said, don't have the resources to put in place the proper safety precautions that were recommended by the U.S. Centers for Disease Control and Prevention.
Let's be honest, as the coronavirus spreads like wildfire in Florida, there is no way they can keep teachers safe in school. No way. Masks, plexiglass shields, washing hands, social distancing, none of it will work completely and it's beyond frustrating that districts are pretending like they can. I think they should be honest and let staff no what will happen if, sorry when they get sick, let them know they will be held harmless and taken care of.
Mental health resources will be paramount for students when we return but what about the staff? Who is worrying about their needs as schools are rushing to reopen despite the facts the pandemic is spreading and there is no way schools can keep people safe.
America is suffering through two insidious and deadly pandemics, one brought forth by a novel virus and the other by a long-overdue reckoning of the intransigent racial and ethnic disparity at every level within all of our systems.
Nowhere is this more evident than in our public schools, where nearly 50 percent of children come from communities of color, and with nearly one-third of Black children and one-quarter of Hispanic children living at or below the poverty level. It is precisely these students who are trapped in the crosshairs of both pandemics: the coronavirus having laid bare inequities in health risk, access to virtual education platforms and basic safety both in and outside of their homes—all factors compounded by the profoundly damaging effects of poverty and racism.
Educators, scientists, public health experts and policymakers have spent decades—rightly, though with varying degrees of success—on optimizing the educational environment for children, by focusing on safe, culturally responsive and engaging classroom environments that meet the needs of diverse learners and develop the whole child. As a behavioral geneticist focused on the mind-body effects of stress and the development of resilience, I believe it is clear that in order to do this well, we must also focus on optimizing the school environment for teachers.
The governors' victory lap over teacher pay which will see tens of thousands of veterans make less money doesn't help.
District's developing plans without teacher input or ignoring the input they give doesn't help.
The fact, the state has shrugged their shoulders at high stakes testing, you know because this will be a normal year doesn't help.
And putting all the pressure on teachers so the economy doesn't shut down again definitely does not help and its definitely not fair.
Florida has routinely marginalized, neglected, and attacked its teachers, and now they say it's up to you to save us, and oh try not to get sick.
I don't know a teacher who doesn't want to be back, but it's unconscionable to ask those who have gotten so little, and already given so much to risk even more. We have to get this right and step one is taking care of our teachers.
To learn more, click the links,